How it works
Set up a collection in minutes. We do the rest.
Share the link or let us email your friends.
Friends pay online and sign the GroupCard.
We can transfer the money OR send you a gift voucher.
Watch our 45 second video
NEW!
Let us save you that trip to the shops! Get the perfect e-voucher from us! Purchase, Print and Include in your Group Card. Everything sorted in one place. Yay!
START A COLLECTION

EASIER COLLECTING
BETTER GIFTING
Organising a group collection can be a giant hassle. Chasing people for money and always getting left short. We do it for you politely and easily. We invite your group to contribute online, which is easier for them. Then we send you the money and a group card with their messages. Everyone's happy. No Chasing. No Out of Pocket. No Problem
Birthday

Teacher/Coach

Farewell

Anniversary
Wedding

Get Well

Hens/Bucks

Thanks

Baby Shower

Bat/Bar Mitzvah
It's time to say no to unwanted gifts and wrapping & cards that go straight into the rubbish. Let technology give us what we need with less waste! In line with the times, one great gift and maybe the good feeling of donating to charity. Smarter, greener, better!

Polite
We even make Thank You notes easy.

Less Waste
No unwanted gifts. Less Wrapping, packaging & petrol
Fair
Choose for friends to give the same amount or let them choose.

Secure
Secure online payment with high level SSL standards. We never sell your info

One Great Gift
Give cash in the group card or buy the gift they'll cherish.
We Do The Tracking
No more constant checking your bank statement for who's sent money.
Convenient
Friends can contribute and sign the card in 2 minutes anywhere, anytime.

Charitable
For an extra feel good factor, we make it easy to donate a portion of each collection to charity.
Choose from a wide selection of email templates for collections. Having a party? We have stylish invitation templates and collect RSVPs too.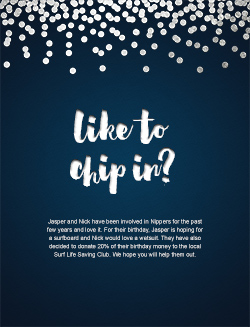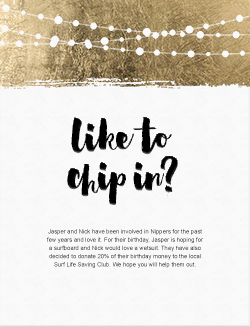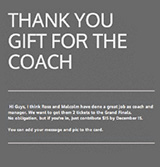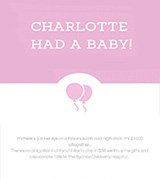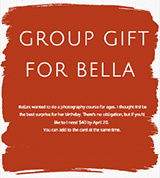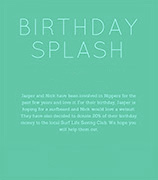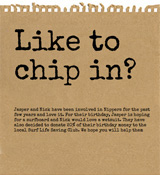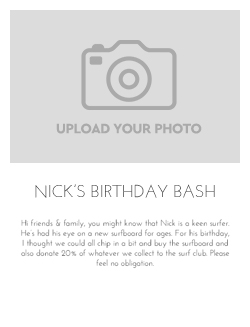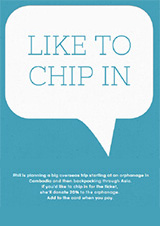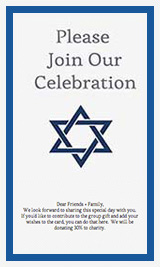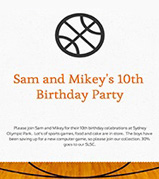 PERSONALISE
THE GROUP CARD
What greater joy than to receive messages of affection from a group of our friends.
That is why every group gift is given with a group card. Friends add their personal message and upload a photo when they contribute. We email the card to you as keepsake, keep it digital or print it out.
Having a party? We have stylish invitation templates and collect RSVPs too.
pricing that's
cheap as chips
Free to setup. For each contribution, we charge a tiny fee to cover transaction costs. You can choose whether to take it out of the contribution or add it on (like a delivery fee).  For bank transfers, it's 3% and Visa or MC 4% + $0.25. 
Ali & Julie are two Sydney mums, each with lots of kids and always buying gifts. We love giving gifts but realize that these days no-one wants more STUFF!
We want to give the gift that our friend really wants - and when we get our friends to group together - we can give the perfect gift - the epic surfboard or funds for a dream trip. Something we can't do on our own.
Just as important, we want it to feel gracious. Stylish email invitations, polite reminders, personalized messages from friends and easy thank you notes afterwards.
Combine that with the option to donate some to charity and to have less waste from unwanted gifts & gift wrap and we find it just feels better all round. We hope you like it too.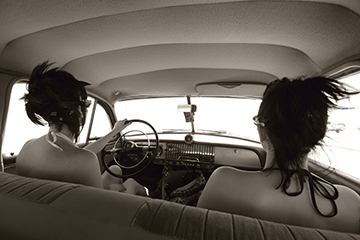 "Thoughtful gifts can enhance family relationships and bring people closer together." Julie Tylman, Co-Founder
Top Gifts for Toddlers
Birthday time for toddlers is rather magical: watching them rip open gifts, listening to the squeals of delight and seeing those smiling faces. What's not...
Top tips to avoid getting left short when collecting from the office
Ouch! So you're the one that always volunteers to collect for the gift from the office. Even though you promise yourself never again, you find...
Oh No You Di'int! Inappropriate Gifts from the Office
"But it's funny!", "He knows we didn't mean it, it's a joke"...never, ever should these words be uttered to your co-workers about a gift gone...
If you have a support query, please leave your details and we will respond to you within 24 hours.