At GroupTogether, every group gift collection has the option to donate 0% to 100% of the gift money to a charity or cause of your choice. Everyone wins. The gift recipient is over the moon with their one great gift and can feel good about sharing their largess. The friends who contributed are happy because they gave a gift that was truly wanted and, at the same time, contributed to a worthy cause. A virtuous circle if ever there was one.
It's completely optional of course but it's an excellent way to give back when others are giving to you. It's also a unique way of introducing kids to the idea of donating to charity from a young age. By organising a group gift you can discuss with your child what gift they want (fun fun), how they want to share in their good fortune (it's easier to share when you know you are getting something special) and who they want to share it with (yay! your child gets to choose not you).It's an easy and painless way to introduce the idea of charitable giving, and hopefully habit forming as well.
Do I need an occasion?
Whilst you can choose to donate part or all of any gift collection, we find that having an occasion makes people more willing to contribute. Milestone birthdays as well as kids birthdays are great occasions to inspire friends and family to chip in for a worthy cause. Other prominent gift giving occasions like Christmas are also opportunities to receive a great gift AND donate part of your good fortune to charity.
How to ask?
Despite doing the good deed of raising money for charity, asking people to donate (especially friends, family and colleagues) can be daunting. What's important is to stress that making a donation is a choice rather than an obligation, as well as emphasising your sincere appreciation for any donation that is made. Here are a couple of examples of how to ask for contributions to a charity as part of a gift:
"Hey everyone! As [recipient's occasion] approaches, I wanted to reach out to organise a special gift that also benefits [Charity Name]. Instead of traditional gifts, let's make a meaningful impact by raising money for [Charity Name] which is very close to [Recipient Name's] heart. Your contribution, no matter how small, will go a long way in helping [briefly describe the charity's mission and the impact they make]. Let's celebrate [occasion] by giving back and spreading joy"

Or
"Hello lovely people! [Recipient's Occasion] is right around the corner and I'd love to shake things up and do something amazing together instead of the usual gift exchange. Let's support [Charity Name], a fantastic organisation that's making a real difference in [describe the charity's impact and cause]. Every little bit helps, seriously! Let's make this occasion one to remember and thanks being awesome and considering this unconventional way to celebrate!"
Or you can even make a rhyme:
"It's your friend's special day, time to celebrate,
But let's make it even better, let's donate!
Instead of gifts that pile up high,
Let's spread some love and make spirits fly.
For [Friend's Name]'s birthday, let's show we care,
By giving back and doing good, let's share.
Donate to a cause close to their heart,
It's the perfect gift, a brand new start.
Together, we can create a lasting impact,
A gift of kindness, there's nothing we lack.
Let's honour [Friend's Name] with a selfless act,
Donate to charity, that's a wonderful pact."
Why GroupTogether?
Gone are the days of collecting cash or managing spreadsheets to keep track of donations. GroupTogether streamlines the fundraising process by providing a user-friendly platform where you can create a fundraising campaign in minutes. With just a few clicks, you can set up a personalised donation page, share it with your network, and start receiving contributions from friends, family, and colleagues.
Being able to create a group card that everyone can sign along with the charitable gift is another great reason to use GroupTogether. Let everyone write a personalised message and upload a photo or choose a GIF to create a beautiful card that the recipient will never forget.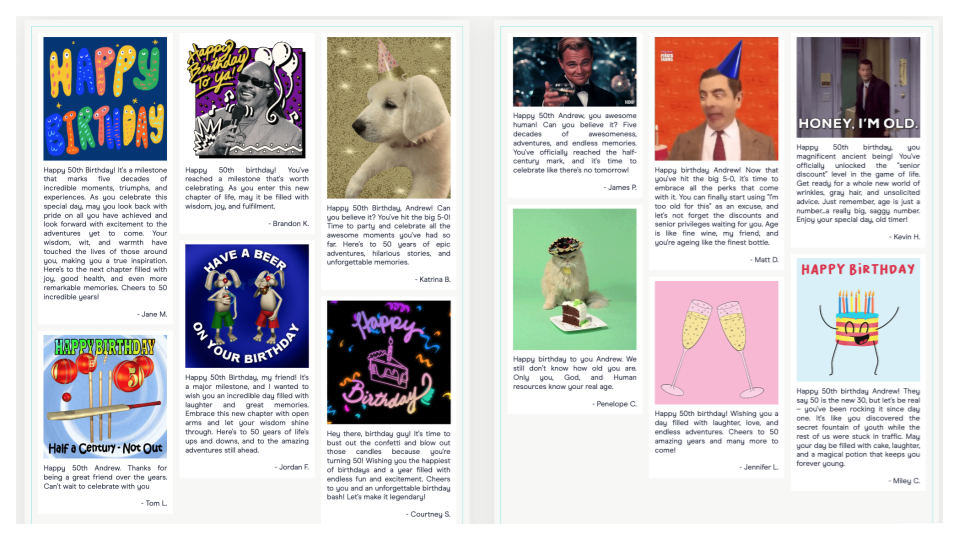 Get Started in 4 Easy Steps:
Setting up a charitable gift with GroupTogether is quick and simple to do.
Go to https://app.grouptogether.com/collectionsetup to set up a gift collection. Make sure to choose 'Chip in + sign the card' if you want a free group card that everyone can sign.

Fill in the details for your gift collection (collection name, occasion, recipient's name, etc.)

Under the 'Card Details' section, click 'More Options' and select 'Donate a portion to charity.' You can choose the percentage of your collection that you donate (you can change this later if you need) as well as which charity to donate to.




Start inviting your group members to contribute!