Group gifting is a great way to give a more substantial and meaningful gift whilst making it cheaper for everyone involved. Even better, it can be organised quickly and easily when you know how. See below for 5 simple steps to organise a great group gift:
Decide on an occasion and the recipient.
Select a group organiser - if you're reading this it will probably be you!
Create an account with GroupTogether - it's free and takes less than 2 minutes to set up.
Set up a group card and gift collection so everyone in your group can write a personal message and chip in for a gift.
Once everyone has signed and chipped in, send the card and gift to the recipient and get ready to celebrate. Hooray!
Why Organise a Group Gift?
When it comes to occasions such as milestone birthdays, weddings, baby showers, coach gifts, etc. organising a group gift can be to everyone's benefit. Not only does group gifting allow you to pool funds and give a more substantial gift, but it also has a more profound impact on the recipient. When everyone groups together to collectively express their appreciation and support for the recipient, it creates a special moment that everyone will remember.
Saving time is another reason why group gifting is great. Think about all the time you would have spent deciding what to buy, worrying if somebody else had bought the same thing, not knowing whether the recipient will like it. Sound familiar? Group gifting takes care of all of that by making it easy for everyone to contribute to one great gift. Not sure what to give? Let the recipient decide by giving them a gift card.
What is GroupTogether?
GroupTogether is an online platform that takes all the hassle out of organising a group gift, making it easy for organisers, contributors, and recipients alike. It's completely free to create an account and it takes less than 2 minutes to set up a group gift collection. You can even add your own group card so everyone can write a personal message and chip in for a gift.
Not sure what to give? GroupTogether has a solution for that too - the AnyCard. The AnyCard is a credit with GroupTogether that can be swapped by the recipient for any retailer eGift Card that they would like best (over 70+ to choose from - see our retailers here). That way you leave the decision to them without having to ask. They have 3 years to swap it and then the retailer eGift card is good for 3 more years and they don't have to spend it all in one go.

Organising a Group Gift with GroupTogether
Here's a step-by-step guide on how to organise a group gift with GroupTogether.
Set up your group gift collection
Go to https://app.grouptogether.com/collectionsetup to get started. Follow the prompts and provide details like the occasion, the closing date, and whether you want people to contribute a specific amount or an amount of their choosing. If you choose to have a group card, you will also get to select the design at this stage - there are lots of designs to choose from.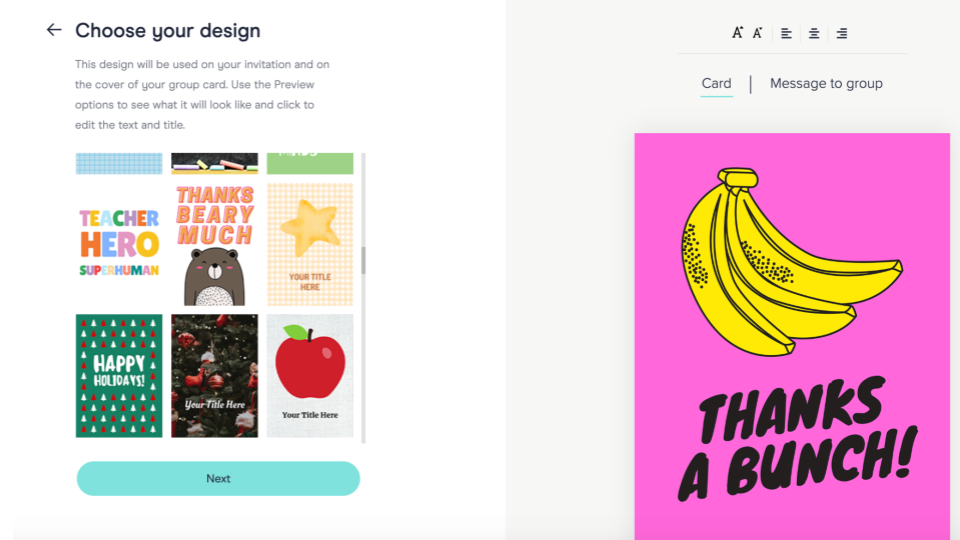 Invite your group members
Next up is inviting your group members to sign a message on the card and chip in for a gift. There are a couple of ways to do this:
Enter email addresses and GroupTogether will automatically send out invites with a link to access the group card and gift.

Or


Copy the shareable link and paste it in your group chat or in an email sent to your group.
Everyone writes a message and/or chips in for a gift
By clicking on the link provided, your group members will be able to leave a personalised message and have the option to securely contribute towards a gift using their preferred payment method. Don't worry, only the organiser will be able to see how much each person chips in.
Track contributions
The organiser can easily track and manage contributions for the group gift. GroupTogether even provides the option of sending out automated reminders to round up anyone who hasn't contributed before the collection closes.
Choose a gift
Once everyone has contributed, it's time to choose a gift. If you know what the recipient would like, you can choose to spend the funds on gift cards from any of the 70+ retailers (see here for retailers). If you want to give the recipient the choice, we recommend giving the AnyCard.


Send the gift and group card
Once you have selected the gift(s), it's time to send them to the recipient 🎉. The recipient will receive the group card with all the wonderful messages as well as a unique link to access their gift(s).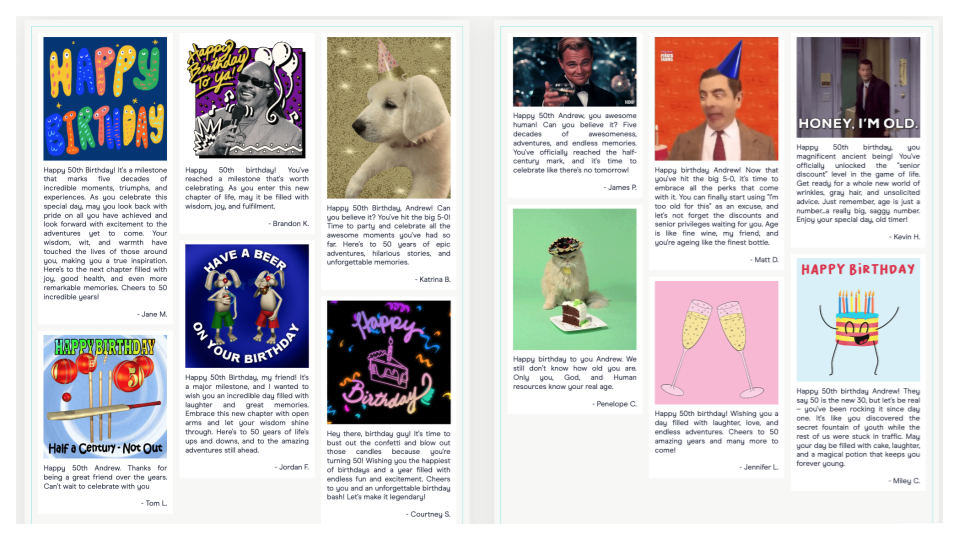 We hope you have found these tips useful to make your next group gift one to remember 😊